Regular price
$119.95 USD
Sale price
$99.95 USD
Unit price
per
Sale
Sold out
The Power Angle Pro - Full Swing Golf Training Aid
The Power Angle Pro will have you swinging on plane and in the Pro Slot in 5 minutes!

The "over-the-top" move is the #1 swing fault in golf. This is were the club moves way inside on the take away, lifted to the top of the back swing and starts out on the down swing. It guarantees a slice or pulled shot every time. If your swing is plagued with this problem your worries are over. Within 5 minutes The Power Angle Pro™ will have you swinging on plane and in the Pro Slot eliminating the "over-the-top" move.

The Power Angle Pro solves these three problems and provides many, many more benefits!
* Correct Grip
* Perfect Take Away
* Precision Wrist Cock
* On-Plane Back Swing
* Back Swing Width
* On-Plane Down Swing — Pro Slot!

"It helps me get my students feeling the idea of width in their swings. It really helps when you can explain a concept and be able to give the student something they can feel. The Power Angle Pro is a great teaching aid."
John McMahon, PGA Professional, Bluffton, SC
Share
View full details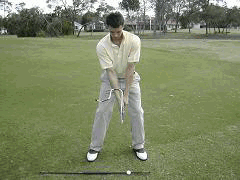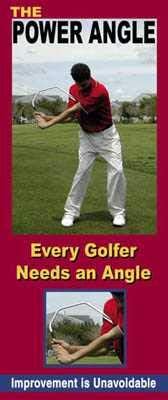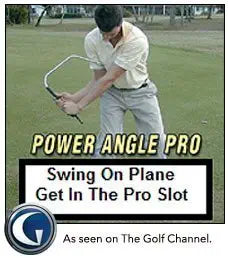 Best Golf Training Aid
I'm a teaching pro and have been using the Power Angle for over 20 years with my students. Its a great training aid to help get my students on plane and to get the arms and body moving properly throughout the swing. The Power Angle is my favorite tool and I highly recommend all of my students to work with it on their own to engrain the proper movement pattern to improve their golf swing.
Best golf trainer ever, and I've bought most of them
by far the best golf trainer I have ever bought, and I own about 20+ training gizmos. You name it, I own it. This one actually delivers on its promises, it's lowered my handicap by over 10 strokes, and I only play 10 times a year. I've always been searching for the right backswing, this shows you what a proper backswing feels right. I've spent thousands on lessons from some of the world's best teachers, would pay anything to play great golf, this is the real McCoy. Looks weird, but the results are amazing. I'm a feel player, and this give you the instant feedback of a great swing.